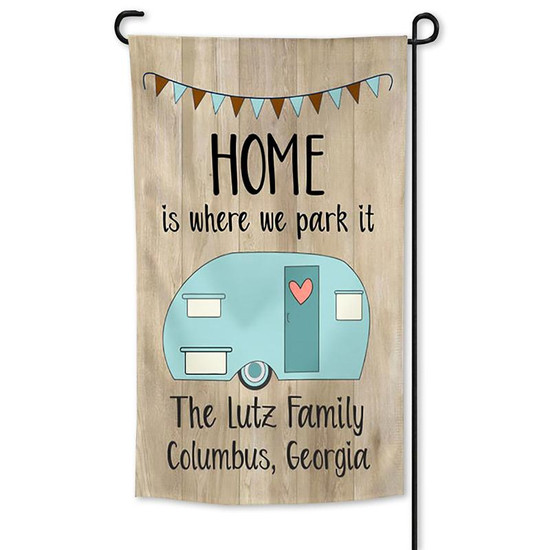 Personalized Our Home Is Where We Park It Garden Flag, Happy Family Gift, Custom Name Garden Flag
US$23.95
Local taxes included (where applicable)
Guaranteed safe and secure checkout via
Delivery to
Standard Shipping:
14th Dec - 25th Dec
Order by December 6 for timely Christmas delivery.
Refund policy
If the product is not as described, we offer 30-day money back or a free replacement for you.
Garden Flag Double Sided Patio Lawn
Yard Outdoor Decoration 12x18 Inch
Discover the perfect accent to bring warmth and charm to your surroundings. Personalize the yard flag with the family name, date or text to make excellent one-of-a-kind wedding gifts, anniversary gifts, housewarming gifts and birthday presents.
Personalized Our Home Is Where We Park It Garden Flag, Happy Family Gift, Custom Name Garden Flag adds a unique, distinctive charm to your outdoor space. This decorative flag adds a unique and welcoming touch to various areas like your front porch, yard, garden, patio, lawn, deck, poolside, lakeside, and even near your mailbox stand. It's the perfect greeting for those visiting your home.
Celebrate Every Occasion with the Ultimate Garden Decoration
Elevate your celebrations with a variety of vibrant garden flags, meticulously designed for every significant holiday, season, and family event. This includes flags for St. Patrick's Day, Easter, 4th of July, Halloween, Thanksgiving, Christmas, Valentine's Day, Spring, Summer, Autumn, Winter, and even Happy Mother's Day!
Sturdy and Durable Craftsmanship: High-quality Canvas Material Garden Flag
Crafted from premium canvas (not thin and cheap polyester), the patio lawn garden flag is designed to withstand the elements. Its weather-resistant and UV/fade-resistant properties ensure that it retains its vibrant appearance even in outdoor conditions. The flag's high-strength double stitching guarantees long-lasting durability, making it a reliable addition to your outdoor decor.
Double Side Printing Outdoor Flag for Lasting Visual Appeal
Our decorative garden flag boasts double-sided printing, showcasing exquisite artwork and text that remains vibrant and legible from both sides. This attention to detail ensures that your outdoor space is adorned with a captivating visual even as the flag sways in the breeze. A perfect complement to your outdoor decor that effortlessly catches the eye.
Timeless Beauty with Distinctive Patio Lawn Decor
Enhance the aesthetic appeal of your home with the intricately designed garden flag. It not only adds a touch of elegance but also offers a unique welcome to your visitors. Whether placed in your garden, yard, balcony, or patio, this decorative flag stands out, turning the heads of your neighbors and creating a wonderful ambiance.
Easy Installation
Christmas Spring Seasonal Flag
The garden flag is designed for easy installation. Its sleeve hanger accommodates standard Banner/Flagpoles, Brackets, Arbors, or stands. Please note that the flag pole or stand is not included. Setting up your flag is a breeze – simply slip the flag through the designated holes on both top sides, and it's ready to grace your outdoor space. When it comes to maintenance, follow the care instructions for lasting beauty: hand wash in cold water (below 30 degrees), avoid bleach, and hang dry.
Gift of Thoughtfulness and Meaning on Halloween, Christmas, Thanksgiving
The Personalized Our Home Is Where We Park It Garden Flag, Happy Family Gift, Custom Name Garden Flag garden flag isn't just a decorative piece; it's a heartfelt gift idea for various occasions. Whether it's birthdays, Mother's Day, Father's Day, weddings, anniversaries, Christmas, engagements, Thanksgiving Day, or Valentine's Day, this flag serves as a meaningful gesture. Share your sentiments with friends, family, coworkers, neighbors, or commemorate special milestones with this thoughtful gift.
12x18 Inches Double Sided Outside Decorative Flag Specifications
Material: Canvas
Special Feature: Custom designed and Printed on both sides
Product Dimensions:12"L x 18"W
Shape: Rectangular
Color: Multicolor as picture
Design: Bright vibrant color, Unique design
Occasion: Easter, Mother's Day, Christmas, Halloween, Thanksgiving, St. Patrick's Day, Valentine's Day
Theme: Holiday, Welcome
Product Care Instructions: Machine wash
Flag stand of pole: Not included
Notes:
- Please allow a 1inch difference due to manual measurement.
- The actual colour and size of the item may be slightly different from the visual image due to different monitor and light effects.
- The burlap details are simulated in the design. No actual burlap will be used in the making of this product.