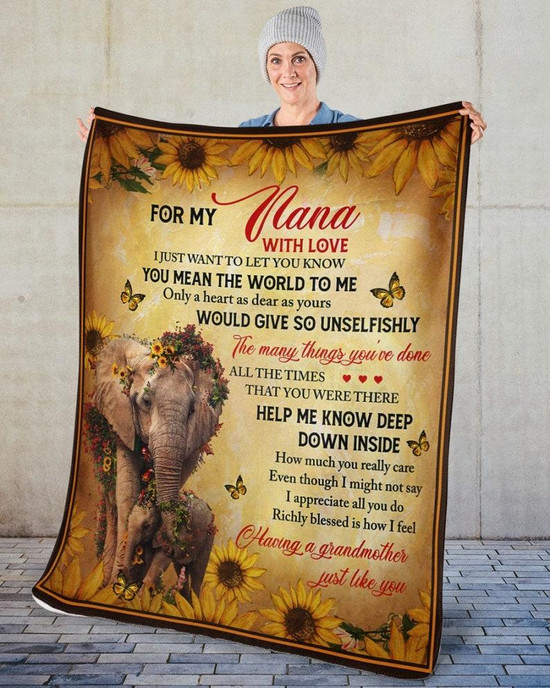 Blankets for Nana, Grandma elephant blanket, Custom Fleece Sherpa Blankets,Christmas blanket Gifts, size 30"x40", 50"x60, 60"x80"
US$50.99
Local taxes included (where applicable)
Guaranteed safe and secure checkout via
Delivery to
Standard Shipping:
14th Dec - 25th Dec
Order by December 6 for timely Christmas delivery.
Refund policy
If the product is not as described, we offer 30-day money back or a free replacement for you.
Lightweight Plush Fuzzy Cozy Soft Blankets And Throws For Sofa
Share your heartfelt emotions with friends and family through the comforting embrace of our throw blanket. Whether it's for a holiday celebration or a birthday gift, this blanket conveys warmth and affection in the most soothing way.
Made with premium materials and available in various sizes, Blankets for Nana, Grandma elephant blanket, Custom Fleece Sherpa Blankets,Christmas blanket Gifts, size 30"x40", 50"x60, 60"x80" is more than just a cozy accessory—it's a symbol of your affection and a source of comfort for all occasions.
Personalized Gift for Birthday Halloween Christmas Anniversaries
Showcase your heartfelt sentiments with this personalized gift, perfectly suited for a variety of occasions such as birthdays, Halloween, Christmas, and anniversaries. Ideal for family members, couples, spouses, girlfriends, and boyfriends, this versatile flannel blanket is a unique expression of your affection. Each blanket features exclusive custom designs that you won't find in ordinary stores, making every moment even more special and cherished.
Fleece Blanket: 100% soft and silky polyester blend
Crafted with 100% soft and silky polyester blend, our fleece blanket delivers a multitude of benefits. It's super soft, lightweight, and adept at keeping you warm. With anti-pilling, anti-wrinkle, and anti-allergic qualities, it caters to sensitive skin and those prone to allergies or asthma. Using cutting-edge printing technology and environmentally friendly ink, the vivid image on the blanket is fade-resistant and odor-free.
Sherpa Blanket: Cozy Comfort
Embrace the plush comfort of our sherpa blanket, featuring your chosen art or photography. This blanket is a masterpiece of coziness, combining soft polyester on one side with wool-like sherpa on the other. Whether draped on the bed or tossed on the couch, it's the ultimate home accessory.
Available in sizes: 30x40 inches, 50x60 inches and 60x80 inches
Choose from two sizes to suit your needs: 30x40 inches for baby blankets, pets, or memorial gifts; 50x60 inches for adults; and 60x80 inches for shared usage or larger gatherings.
Multifunctional and Decorative Blanket For Couch, Bed, Camping, Picnic
This versatile throw blanket caters to a range of scenarios, from cozy couch evenings to outdoor adventures. It's your companion for binge-watching sessions, office work, camping trips, travels, and more.
Unique Design Blanket For Baby Mother Father Adult Friends
Our throw blanket serves not only to provide warmth but also to symbolize love. Each blanket features unique custom designs that are unavailable in ordinary stores. The single-sided printing showcases vibrant images, while the opposite side remains a calming white.
Easy care
This soft throw blanket is made of shrink-resistant material. And it holds up beautifully to heavy use and multiple machine washes, with no fading. Please don't expose to the sun for a long time. Store this cosy blanket in a dry and cool place when there is a long time of no use.
Soft Throw Blanket Specifications:
Material: High quality polyester blend
Color: Multicolor as picture
Special Feature: Lightweight, soft, silky
Style: Modern
Blanket Form: Throw blanket
Applicable Occasion: Couch, sofa, bed, travel, camping
Seasons: All, Winter, Fall, Spring.
Notes:
- Please allow a 1-inch difference due to manual measurement.
- The actual colour and size of the item may be slightly different from the visual image due to different monitor and light effects.
Similar to Blankets for Nana, Grandma elephant blanket, Custom Fleece Sherpa Blankets,Christmas blanket Gifts, size 30"x40", 50"x60, 60"x80"